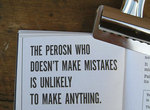 In urma cu cativa ani am plecat dintr-o librarie londoneza cu un mic volum: It`s Not How Good You Are, It`s How Good You Want To Be" (Paul Arden). Am dat pe ea 5 lire si am luat-o pentru ca scria pe coperta "The world's best-selling book…" si era despre advertising.
Am citit-o la acea vreme, insa am uitat, fireste, de ea pana zilele trecute cand m-am "impiedicat" de ea prin casa. Am rasfoit-o si mi-am dat seama ca din ea pot extrage cateva sfaturi / sugestii / adevaruri / vorbe de duh pentru blogosfera.
Iata ce am selectat:
"your vision of where or who you want to be is the greatest asset you have"

"without having a goal it's difficult to score"

"all creative people need something to rebel against"

"not many are prepared to make the sacrifices it takes to be great"

"do not seek praise seek criticism"

"give away everything you know and more will come back to you"

"do not put your cleverness in front of the communication"

"don't be afraid of silly ideas"

it's not what you know, it's who you know"
Am ajuns pana la jumatatea cartii, asa ca o sa revin si cu partea a doua. Am impresia ca volumul a fost tradus si in romana.