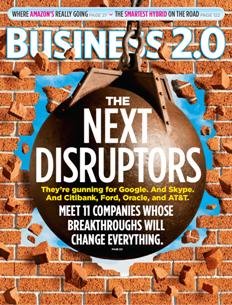 Business 2.0 este revista de business pe care o apreciez cel mai mult, revista mea favorita. Pentru un an am reusit chiar za ma abonez la versiunea digitala. Pacat ca intre timp Zinio a renuntat sa o mai reproduca. Acum o urmaresc doar pe Internet.
Am scris aceste randuri pentru a va propune sa cititi cel mai recent cover story din Business 2.0: The Disruptors – 11 companies changing the world.
UPDATE: La capitolul lectura "obligatorie" intra si Blogging for dollars.