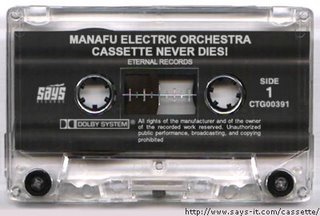 Zoso si-a decimat astazi colectia de casete. Eu am descoperit saptamana asta in masina o caseta cu un best of Mylene Farmer si "mi-am facut de cap" timp de 90 de minute.
Mi-am propus atunci sa pastrez casetofonul National Panasonic (circa 1970- 1980) mostenit de la tata pentru a arata urmasilor cum se asculta muzica pe "vremea mea". Si am sa pastrez si casetele cu care am mai ramas.
UPDATE: O dedicatie pentru Zoso: iPod vs. The Cassette. Si una pentru cei ce nu vor uita niciodata casetele.