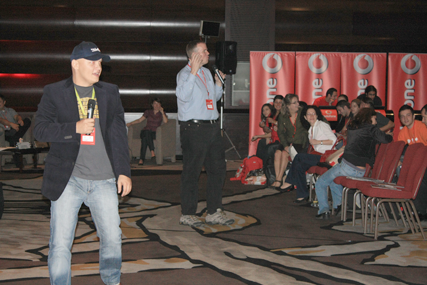 Bob Rapp, omul pe social media al Vodafone Group care ne-a incantat la Webstock, a oferit doua telefoane mobile celor care puneau intrebari in timpul conferintelor: un HTC Magic alb (trebuie sa il vedeti!!!) si un Nokia N97. Am acordat cele doua telefoane pentru intrebarile puse de Magda Mihaila si Andrei Gheorghe.
Magda la intrebat direct pe Bob in sesiunea de Q&A: At first people were using social media to create and develop an alternate online personality that allows them to look grater than in reality. How can you convince them now to be honest when they use social media?
Andrei a pus intrebarea pe Twitter, insa aceasta a fost pusa de mine in sesiunea urmatoare, iar raspunsul a fost dat de Sharifah Amirah: How do you feel about a future where we all have unique people IDs and all our actions can be tracked down?
Telefoanele au ajuns deja la cei doi castigatori.