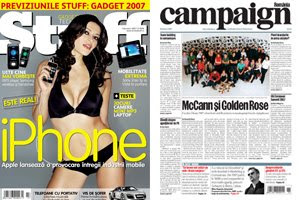 Revistele Stuff si Campaign vor deveni produse online la mijlocul luni noiembrie, dupa ce Business Media Group a decis sistarea aparitiei lor in print. Atat Stuff, revista de lifestyle digital, cat si Campaign, revista de publicitate, marketing si PR, au fost lansate pe piata sub licenta Haymarket UK.
Am aflat aceste noutati dupa ce in ultimele zile au circulat mai multe zvonuri privind inchiderea unor publicatii ale BMG. Chiar mi s-a cerut parerea ca fost angajat al acestui trust. La randul meu, l-am intrebat pe Rachad El Jisr, publisher BMG, ce se intampla:

We are not really just closing two magazines. We are actually moving online, following our readers. For both target audiences, the web became the natural destination. Both projects will be part of Rockmedia, while BMG will focus on its three business publications, new business products and B2B events. (Rachad El Jisr)

Rockmedia este un nou publisher online lansat de Rachad dupa exit-ul sau din Imedia, companie infiintata de acesta in 2000 si achizitionata in 2005 de NCH.
Ideea de a iesi din print cu cele doua reviste a aparut in vara acestui an, insa abia in toamna, pe fondul crizei financiare mondiale si din cauza descresterii bugetelor de publicitate in media traditionale, BMG a luat decizia mutarii pe Internet.
La nivelul redactiilor nu vor aparea schimbari, ambele echipe editoriale urmand a fi intregrate in cele doua proiecte online, ce vor avea noi branduri.
We are not keeping the same brands for online. Both Stuff and Campaign are licenses, and there is still a lack of flexibility for licensing brands online. We would also like to own the brands for those new projects, so we have more flexibility in adapting to market conditions and get more value once we may consider an exit to an investor. Regarding the naming for each project… It is still confidential. (Rachad El Jisr).
Cele doua site-uri vor oferi in prima faza doar continut, urmand ca in timp sa adauge diverese functionalitati.
Site-ul de media & advertising va acoperi toate aspectele comunicarii de marketing, cu un flux zilnic de stiri, insotit de analize, interviuri, arhive de reclame si un director web dedicat industriei si o aplicatie de networking pentru oamenii din domeniu. De asemenea, site-ul va oferi periodic abonatilor diverse rapoarte de profil.
Site-ul de lifestyle digital va fi crescut in jurul gadget-urilor, dorind sa devina prima (prin exclusivitati) si cea mai buna (prin onestitatea parerilor) sursa de informatii online in domeniu. Totodata, site-ul se va baza pe mult continut video, in mare parte dedicat recenziilor de produs si videocast-urilor. Nu in ultimul rand, va include transmisii live de la evenimente si un ghid de shopping.
Migrarea publicatiilor din print spre online devine o practica din ce in ce mai naturala pentru multi publisheri. Probabil cel mai cunoscut caz este cel al revistei americane Life, editata de Time Inc, care a fost mutata integral pe Internet anul trecut.
Publicitatea pe Internet inregistreaza la noi cea mai mare rata de crestere, iar proiectele online au devenit foarte interesante pentru investitori. Dupa ce luna trecuta am anuntat infiintarea fondului Seed Money si intentiile Thousand Tiny Tigers, saptamana aceasta am intrat in legatura cu un investitor german si am aflat ca Swiss Venture, un publisher elvetian activ de ceva vreme in Sibiu, s-a lansat oficial.
In acest moment, pe segmentul pe care va intra site-ul de gadget-uri al Rockmedia, Go4IT este cel mai bun produs online, fiind totodata si un vechi competitor al Stuff, pe vremea cand aparea cu regularitate in print. Zona site-urile online de media & marketing este deja un pic mai aglomerata, titlurile importante aici fiind IQads, AdPlayers, Markmedia, IAA.ro si Imagoo.nu. De asemenea, exista o serie de bloguri importante specializate pe media, precum cel initiat de Iulian Comanescu, Paginademedia.ro si Media Details.
Compania BMG a fost infiintata in 1995 si editeaza revistele Business Review, Biz si BusinessWeek.
PROMO: ADVERTISING 2.0 | SEARCH ENGINE MARKETING SEMINAR