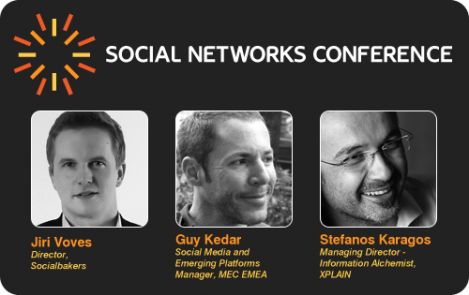 Dintre toate evenimentele in care am vorbit despre social media si retelele sociale, editia de saptamana viitoare a Social Networks Conference va fi de departe cea mai consistenta resursa de informatii, idei si solutii. Este o intalnire pentru cei avansati atat in comunicarea online, cat si in social media.
Alaturi de o serie de oameni din agentii si companii, participantii vor intalni trei specialisti internationali:
Jiri Voves, Director, Socialbakers – Are o experienta vasta in social media si marketing, de la consultanta si initierea companiilor in universul Facebook.
Guy Kedar, Social Media and Emerging Platforms Manager, MEC EMEA – Coordoneaza pentru MEC toate activitatile de social media pe zona EMEA (30 de tari).
Stefanos Karagos, Managing Director, Information Alchemist, XPLAIN – Este fondatorul XPLAIN, companie care asigura servicii premium de Social Media si Word of Mouth Marketing.
Social Networks Conference este un eveniment organizat de Evensys in parteneriat cu Pepsi. In acest moment, dincolo de prezentele vedetelor, organizatiilor, cauzelor, formatiilor etc., pagina Pepsi pe Facebook se bucura de cel mai mare numar de fani intre brandurile de pe piata noastra: 68.586 likes.